So somehow you've ended up with a beard, and maybe you've even bought a swedish made axe.  Perhaps you've taken an interest in zombie survival, or you really just like multitools.
Well all that stuff has to go somewhere and if it's not with you, well what's the point?
Enter the man purse
I get made fun of.  My little Arcteryx backpack goes with me wherever I go.  Then someone needs something…
Oh you need a towel.  Ya I've got one.  Here you go.
Flashlight?
Knife?
Need your finger reattached?  Let me get my bag.
Then the man purse becomes a little bit cooler, though maybe not much. It does save a ton of hassle though.  More importantly it gives you autonomy and self reliance.
The evolution of the man purse
For a short time my girlfriend and I lived apart.  I would head over to her place and ended up staying there over night.
I though, man it would be nice to have a toothbrush and a t-shirt or something to change into.
Then I found the hard drive case survival kit idea on a random forum.  The idea being that a portable hard drive case is just small enough to grab when you might need it, but not as cumbersome or psycho as your duffel bag full of axes and multicam pants.  It will fit in a large coat pocket, but carry basic stuff to get you through a night or two in the forest, or get through a small emergency.
Hard drive case survival kit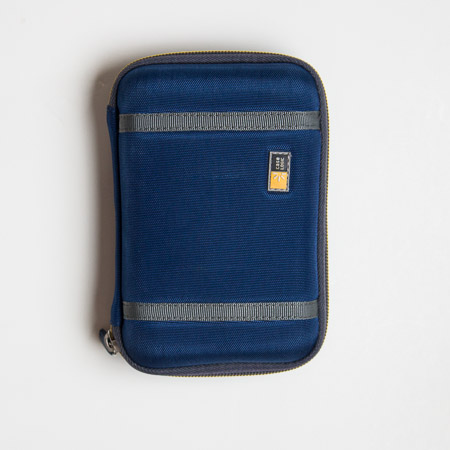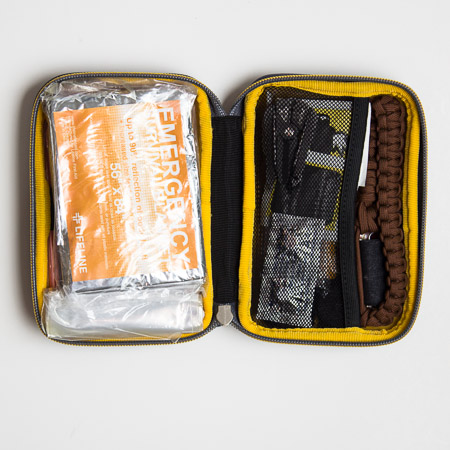 First aid kit
Multitool
Zip lock bags
Emergency blanket
Water purification tablets
Athletic Tape
550 Cord
and so on…
This same case just happens to fit deodorant, underwear, a toothbrush, and a razor.  Toss in a travel bottle of soap or shampoo and you can go from gross to almost presentable at any time.
You forgot deodorant today?  No problem.
You stayed at some strange girl's house and you have some place to be?  No problem.
I've "showered" in many airport sinks with the gear in my hard drive case. The willingness to do this opens up some opportunity.
Toiletry case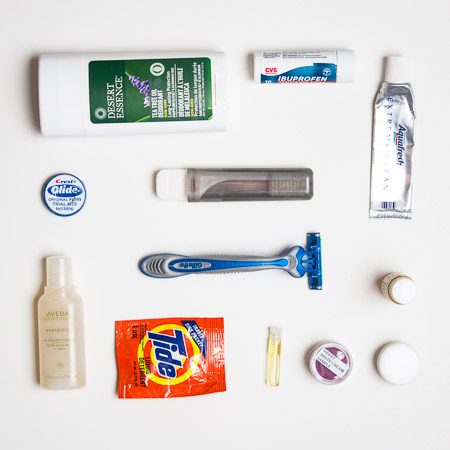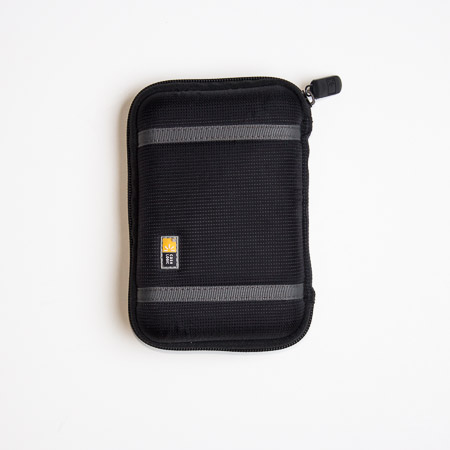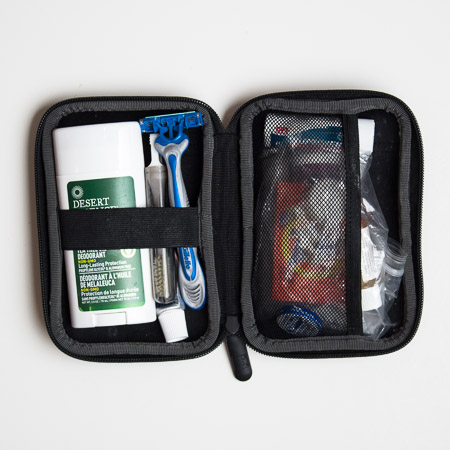 Stuff you might include:
Razor, double edge can be taken apart for size, but cheap disposable is more airport friendly
Brommers, old spice, or whatever travel size all purpose soap/shampoo
Tide Packets
leaf soap
deodorant
Travel toothbrush
Toothpaste
Floss sample (ask your dentist)
Travel bottle of ibuprophen/naproxen/emergency meds
Cologne sample vial. You can often get these at the mall.
T-shirt or light weight underwear if you've got space
Now you've got some organization and you're cleaned up.  That's a practical place to start before you worry about fire starting and shelter from zombies.
As I found keeping some gear with me regularly was so convenient, I started carrying more with me.  This morphed into the man purse/backpack that I use today.
What else do we need?  Well…what do we use every day?
Electronic junk

Head phones
Cables – 1/8″ stereo cable for rental cars, random stereo encounters, etc. as well as usb cell phone charger
USB wall charger
Head lamp – Frees up the hands for fixing stuff in the dark. Get one with a red led which doesn't kill your night vision. I also bring a hand held light that someone can aim for me.
Batteries – AA and AAA for head lamps, cell phone charger, and random stuff.
Critical for travel:  cell phone or generic USB charger that accepts batteries.  You can buy batteries in a gift shop or CVS but you can't always find a power source when you're on the run in an airport, on a plane, riding your bike, or in the forest.  This has saved me many times.
Ear plugs could be their own blog post, but get a few. Concerts, hotels, planes, any place you might want to sleep or that's too loud.
To this I add pen and paper. If you need to leave a note, your cellphone can't do it. I keep a little cash tucked in here as well in case I loose my wallet or cards. Just enough to get gas and a burger if I get stranded.
All this stuff goes into zip locks or cases to keep it organized and untangled…or less tangled really.
Now we get to the less frequently used gear, but still very important.
First aid
You're not going to perform open heart surgery. At the same time if something isn't that bad, you can probably just deal with it.
It's in the middle ground where we find some annoying things that can compromise your day very quickly if they don't get handled.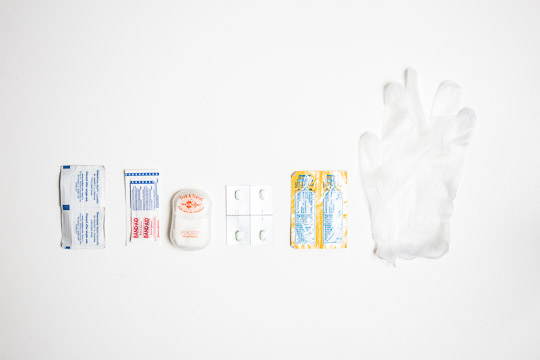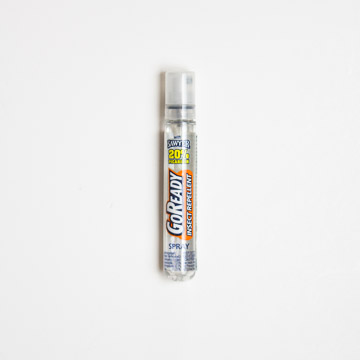 While I keep a more elaborate first aid kit, I keep more commonly used stuff in a zip lock.
Infection
Neosporin to-go
Rubber gloves
Alcohol swabs
Band aids
Soap
Larger injuries
Athletic tape or KT tape – can be used to immobilize a broken limb, get you out of trouble with a sprained ankle (been there), cover blisters, etc. It's also handy for fixing stuff.
Quick Clot – It can stop major bleeding, but know when and when not to use this.  It absolutely saves lives for $15.
Meds
Anti-Diarrheal meds – Go to the doctor if you need one, but this makes it easier to get there when you have food poisoning on the road.
Anti-nausea meds – Same thing.  This may help you get out of a bind.
NSAIDS – I prefer naproxen/Aleve. You make poor decisions with a headache, and a stiff hip can compromise your ability to move.
Anti-histamine – internal/external for bug bites and minor allergic reactions. Again, this may make it easier to reach your doc.
Prescriptions
A tiny bottle of bug spray is nice as well.  Keep it well sealed in a water tight bag.  Even just spraying your shoes and hat will help with picking up critters on a hike.  Hanging out at a party? Let the mosquitoes bite someone else.  If you have it, you will use it.
Grab a stick of hard sun block at the surf shop.  It won't leak everywhere.
Now the big stuff.
I keep an XL travel towel.  This makes a blanket to lay on, an extra layer of insulation, a pillow, a way to quick dry your clothes (roll together and stomp), and of course an actual towel.  These are super absorbent and dry easily.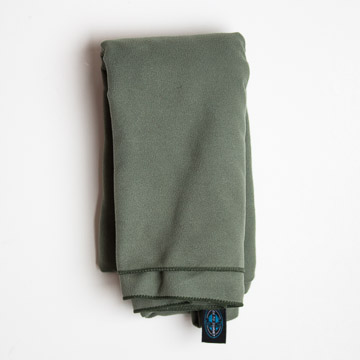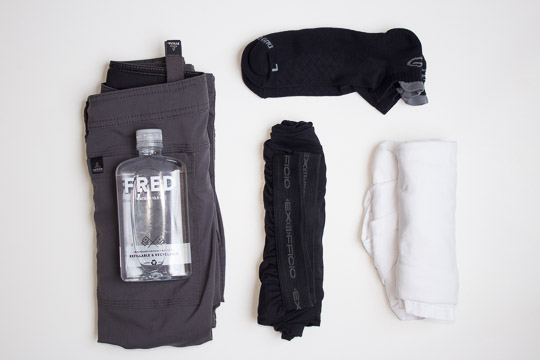 Clothes
As this bag also acts as my gym bag I usually keep some extra clothes with me. I'll but up a more elaborate post on clothing choice and minimalism in the future.
When you always keep a change of clothes with you, there's never an excuse to not do something stupid or fun.  Whatever you are wearing now is appropriate for swimming in, because you can change.  You went to a dinner party but now a soccer match has broken out in the back yard?  Let me throw on some shoes and shorts.  I got an idea for some insane weekend trip, but we have to leave right now?  Let's go.
Taking this one further.  Keep some hiking shoes, approach shoes, harness, whatever outdoor gear with you.  Start eliminating excuses for doing the things you want to do.  Have your gear with you and ready.
For a quick list
Prana stretch zion shorts and pants in gray
White calvin clien v-necks (still looking for a replacement for cotton that is as comfortable and doesn't smell).
Champion synthetic socks in black
Inov8 trail running shoes
Semi dressy long sleeve button up Columbia shirt for when I have to be kinda presentable or need a long sleeve shirt.  Stretches, can climb rocks or go to dinner.
Underarmour sweatshirt – super breathable, kind of a synthetic mesh fabric which breathes really well.  Would pay any dollar amount for them to start making them again.  I wear this almost every day.
Hat
Outdoor research makes a great set of mesh bags. The larger ones fit a pair of shoes. These get strapped to the outside of my bag so I always have shoes and sandals to switch between. I only wear real shoes when absolutely necessary. Because these bags are mesh, wet stuff can dry, and it doesn't get moldy.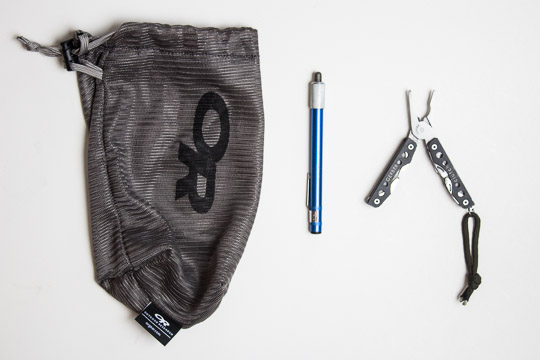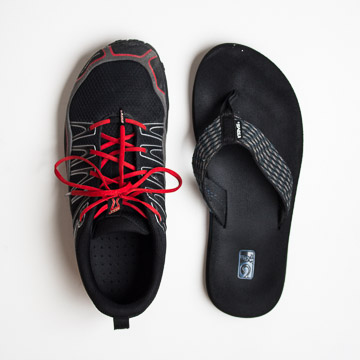 Survival gear
I've paired this down over the years as its annoying to carry. Keep your hardcore stuff in a vehicle or separate bag.
Poncho or tarp, something to get out of the rain. I use an Arcteryx squamish hoody that is good enough for an emergency rain shell in a pinch, but breathes better than gortex. This also ads a layer of warmth to cut the wind.
String to secure a tarp and for whatever else you might need string for.  While 550 is popular, there are better choices out there from kevlar (which you can basically hang in a fire) to thin static climbing rope (insanely strong).
In addition to whatever biners you carry on your keychain, Metolius makes a really awesome mini carabiner that is climbing rated.  I use these for hanging hammocks with a clove hitch.
Fire starters that you have actually used to start fires or a bic lighter.  Not a bad idea to grab some trioxane, esbits, etc. though they aren't airport friendly and they can be smelly.
Bottle of water – makes life so much easier and gets used more than you expect.
Jacket if you're weather is colder than you expect.  A quality down jacket packs down to a baseball and goes a long way if you get stuck over night.  I've had good luck with the Patagonia down sweater, though I think the next purchase will be an Arteryx atom LT hoody…because hoody and because they can be machine washed/abused a little more then down.
Larabars or calorically dense (high fat) food.  This gets used all the time.  Just having something when your sugar drops or you forget to eat or you're randomly on the beach and you don't want to leave.
Multitool
Compass/navigation
If you're planning on being outdoors like on a day hike, I'm a hammock/tarp man for light weight emergency shelter.  Without insulation you'll be cold, but you'll be dry, comfortable, and off the wet ground for 1-2 lbs of cheap, compact gear.  It's also nice to just have a hammock to hang were ever you go.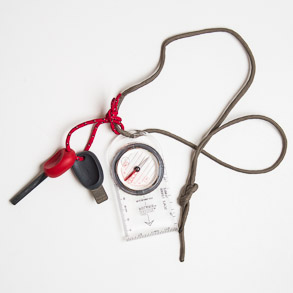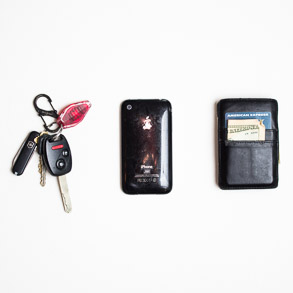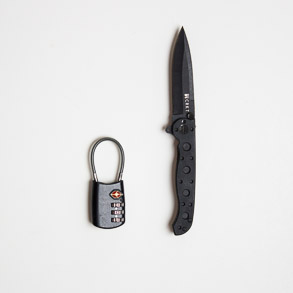 That will keep you alive and help you solve most problems.  From here the sky is the limit, but I prefer to offload anything more than this to vehicles or non-daily carry bags.
EDC
Tiny red light for finding random stuff when I drop it in the dark.
Fred water bottle.  These are flask shaped so they fit in your pocket, but they're light weight and easy to refill.
Whatever iphone I have in a magpul case.
Magic wallet
Nite-ize lockable biners – can be used to attach anything to a belt loop when you are tired of carrying it, including your packed up down jacket.
Bag
In general I recommend gear made for climbers.  It's always stronger and lighter than the stuff made for everyday plebs.
Arcteryx no longer makes the original cierzo 18.  The new one isn't even close.  They do make other great bags though.  Get something with an external pocket to keep small stuff separated from big stuff.
Roller bag for laptops – not stylish, but it's easier to drag through an airport.  You can turn a good laptop bag into a weekend suitcase in a pinch.  The Patagonia rolling backpacks are pretty awesome for carry on bags.
A leather bag resists fire.  When I carried a leather bag years ago, my laptop survived a truck fire with nothing more than a new smokey flavor.  Something to consider.
Dark colors like gray, brown, or black are less likely to be seen when laying around in your car.
Packing
Roll clothing.  It takes up less space and gets less tangled.  Separate liquids.
Liquids and such go in water tight bags in an outer pocket or at minimum separate from electronics.
Organize with mesh bags, these let dirty or wet stuff dry out and breathe so you don't get mold and funk.
Small stuff goes into ziplocks so it's easy to find.
So there you go.  A little preparation frees you up from excuses for not doing crazy things, going on last minute trips, staying out longer than you planned, and so on.  It can save your life, the life of a friend, or at least save you some hassle.  Hopefully this gives you some ideas.
Get out there…and bring your man purse.